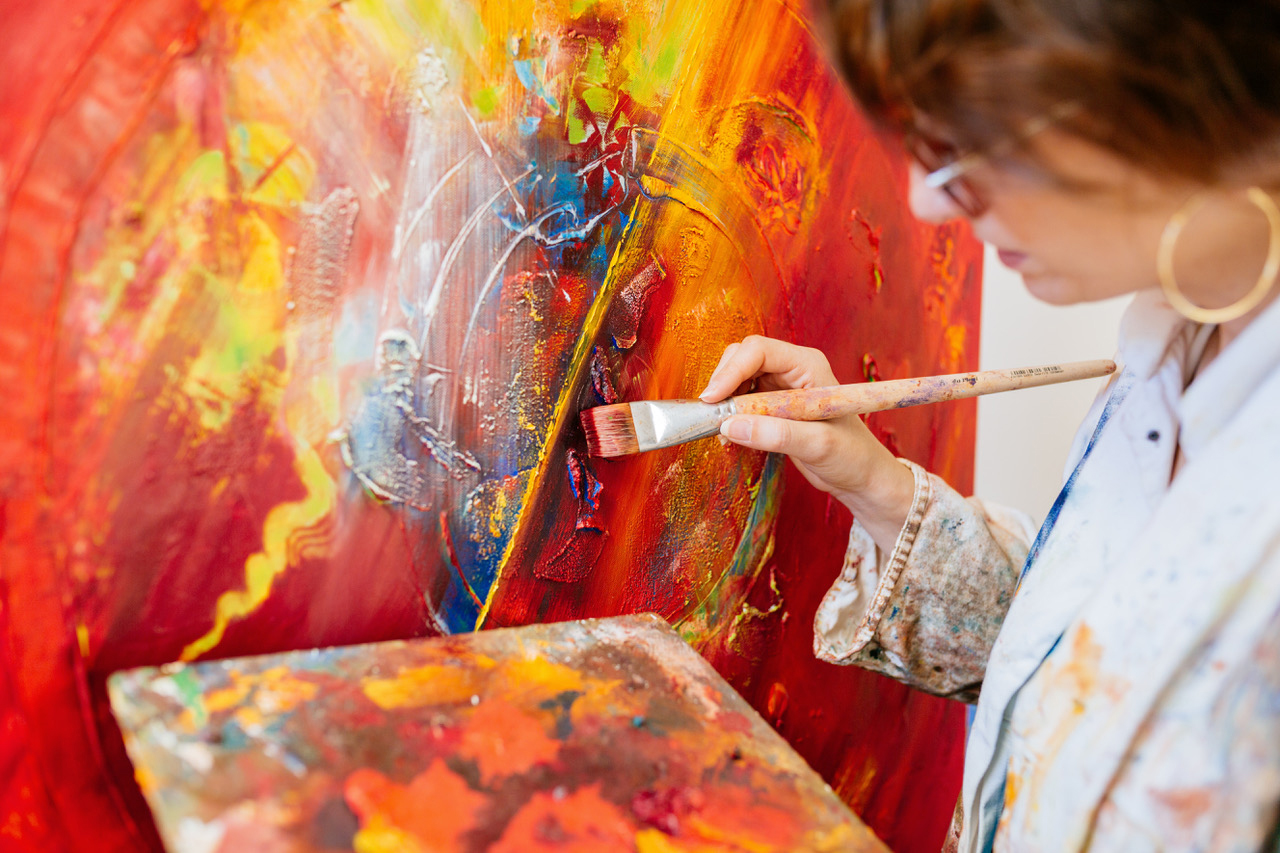 Franca Grillo – Interior Vibrations
Franca Grillo is a multi-faceted woman who has found a balance to combine her different talents!
Her vision of light in colour
Franca Grillo is a renowned painter and creator of energetic patterns.
She wears many hats, but all of them are intended to bring us light and well-being through her artistic approach.
Her vision: Aesthetic light and the light of well-being.
When Franca Grillo stands in front of her canvas, she is in full consciousness, guided by her emotions, her unconscious and her generous way of creating.
From there appear colours, shapes, powerful strokes that speak directly to each of us… :
A universal language.
Elegance from Europe
For Franca Grillo, textiles are a family affair.
Although she now lives in Alsace (France), her family is originally from Italy. Her grandparents were former textile workers and lived in Prato (Florence), the world's textile industry hub. For decades, she has been cultivating her know-how, which is mixed with the culture of beauty, design and materials.
Since her childhood, she has observed the meticulous work of craftsmen immersing herself in a future world where well-being and love for the material reign.
Her life path
From birth, art and colour have been an intuitive part of her. She has always known that this was her path.
For 20 years, the artist has also worked in the field of human aid, accompanying the most disadvantaged and listening to them. It is from her eyes and her soul turned towards others that she has this singular empathy, this capacity to transmit positive emotions and to understand us.
Because of her university education in the field of human sciences, her artistic work is also based on quantum sciences, energy and chromotherapy.
The artist has received numerous testimonies from people who have felt a real sense of well-being thanks to her creations.
She has been selected for the Art Capital exhibition at the Grand Palais in Paris in 2019, bringing together authentic artists from around the world.
The steps of the 2019 Cannes Film Festival were able to admire her fabrics through her creations and were able to sublimate international personalities.
Whatever our origin, our culture, our way of life, Franca Grillo manages to touch our humanity.
Her greatest reward: Your trust.